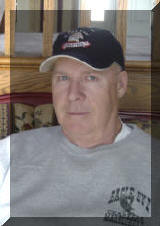 CAPTAIN
BOB HAYNER
Capt. Bob Hayner has been guiding clients for 30 years on both fresh and salt water. He lives on the lake, and keeps a constant pulse on the fish movements and activity. He specializes in light tackle sport fishing. Whether you are entertaining clients or spending a day with family and friends, with Capt. Bob you can expect professional, reliable and courteous service.
CONTACT ME
419-798-8152 (H)
419-341-2524 (C)
EMAIL ME
eagleeyecharters@aol.com
RECIPES

Captain Bobís Crab-Stuffed Walleye
4 to 6 Walleye fillets
1 can lump crab meat
3 slices white bread, diced into small squares
1 bunch diced green onions
1 cup of butter, melted
1 pint heavy cream
Old Bay Seasoning
Paprika

Preheat oven to 425 degrees. In a medium mixing bowl, combine the crab meat, diced green onions, and bread. Add enough of the heavy cream to moisten the mixture into a workable paste. Season the mixture with Old Bay. In a lighted greased baking dish, place 2 to 3 single Walleye fillets.

Next, spoon some of the crabmeat mixture onto the fillet, and evenly spread along its length. Top with a second fillet. You may want to use a toothpick to hold the second fillet in place. Lightly coat the top of the stacked fillets with the melted butter. Sprinkle paprika over the top of the fillets. Bake at 425 for 30 minutes.


Franís Encrusted Walleye
In a 9x13 baking dish, squeeze fresh lemon over Walleye fillets. Marinate filets in a mixture of Lea & Perinís Worchestershire sauce, white wine and herbs. Refrigerate for 20 minutes.

Remove fillets from marinade, and roll lightly in flour. Pan fry until golden brown. Remove from pan and place in a clean baking dish. In a small bowl, mix together 1 cup of crumbled Ritz crackers, 1 tsp. ground mustard, 3/4 tsp. dill and 1/2 stick melted butter.

Sprinkle the crumb mixture over the fillets and bake in a 425 degree oven for 10 to 15 minutes, or until top is golden and lightly crunchy.


Potato Fried Perch
1 to 1/2 lbs. Yellow Perch
1 teaspoon salt
1/4 teaspoon black pepper
1 egg, beaten
1 tablespoon water
1 cup instant mashed potatoes
1 pkg. (7-10 oz.) dry onion or Italian salad dressing mix
cooking oil

Sprinkle thawed fish with salt and pepper. In a bowl, beat together egg and water. In a separate bowl, combine the potato flakes and salad dressing mix. Dip fish into egg mixture, and then coat with potato flake mixture. Heat 1/8 cup oil in a frying pan. Add fish when oil is hot, and fry for 4 to 5 minutes on each side over moderate heat until golden brown. Fish will be done when it flakes apart easily when tested with a fork. Drain on absorbent paper. Serves 4.


White Bass Summer Salad
1 qt. flaked, cooked white bass
2 hard cooked eggs, chopped
1/4 cup chopped green pepper
2 teaspoon lemon juice
1 teaspoon salt
2/3 cups mayonnaise or salad dressing
1/4 cup chopped celery
1/4 cup chopped sweet pickles
Dash of pepper
Lettuce

Combine all ingredients, except the lettuce, in a large bowl. Mix well & chill 2 to 3 hours. Serve on a bed of lettuce.

Lake Erie Corn Chowder
1 to 1 1/2 cups boned Walleye fillets
1 lb. bacon (can be ends or pieces)
1 onion, chopped fine
3 stalks of celery, chopped
1/2 lb. butter or margarine
2 cans of creamed corn (13-1/2 oz. size)
1 quart of milk
salt and pepper to taste

Brown the bacon, drain and set aside. Brown onion and celery in the bacon fat, and set aside. Dip the fillets in flour and brown them in the bacon fat as well. Discard excess fat. Place all ingredients in a large stockpot and simmer for 20 minutes. Season to taste with salt and pepper. Serves 8 to 10.

Parmesan Perch
2 lbs. Perch fillets
3 cups of saltines
Parmesan cheese
2 eggs
1 tablespoon of pepper
Dash of basil and/or oregano
Cooking oil

Mash the saltines into fine crumbs, add in the spices and pepper. In a separate bowl, beat the eggs and a bit more pepper until well-mixed. Fillets should be patted completely dry, then dipped into the egg batter and rolled in cracker crumbs. Heat 1/2 cup cooking oil in a skillet until a drop of egg batter sizzles, then add perch. Turn when the first side becomes golden brown. Remove and drain; when sizzling begins to diminish and fish flakes easily with a fork. Salt lightly, and dust with Parmesan cheese while still hot. Serves 6.

Pirate Johnís Poached Walleye with Grilled Vegetables
2 whole Walleye
3 cups of water
3 cups of dry white wine (we prefer those from the Lake Erie island region!)
1 onion, sliced julienne style
2 bay leaves
4 sprigs of fresh thyme
3 cloves garlic
1 yellow squash, cut into 1 thick slices, lengthwise
1 zucchini, cut into 1 thick slices, lengthwise
1 small eggplant, cut into 1 thick slices lengthwise
6 roma tomatoes, cut into quarters
2 cups of extra virgin olive oil
2 tsp. minced garlic
1 tablespoon of fresh basil, chopped
2 tablespoons creole mustard (feel free to substitute another spicy style mustard)

Preheat your grill. Season the Walleye with salt and pepper. In a large frying pan, combine the water, wine, onions, thyme, garlic cloves, and bay leaves. Season the liquid a bit with both salt and pepper. Bring the liquid up to a simmer, then add the whole fish and poach for 8 to 11 minutes. Gently slide a paring knife into the back of the fish and try to peel back the flesh from the bone. If it sticks, cook a few minutes more.

In a large mixing bowl, toss together the sliced vegetables and a few tablespoons of olive oil. Place them on the hot grill, and cook for 3 to 5 minutes per side. Place the tomatoes into a blender, puree them with the minced garlic, one cup of extra virgin olive oil, then mustard and the basil. Serve the fish over the vegetables, with the tomato mixture spooned over the top. Makes two servings.


First Mate Megís Pan-Fried Walleye
6-8 ounces Walleye fillet
1 cup flour
1 clove garlic, minced
salt and pepper to taste
1 egg, slightly beaten
1/4 cup of your favorite beer
Vegetable oil
Old Bay Seasoning

Mix the flour, garlic, salt, pepper and Old Bay in a shallow dish. Add the beer to the beaten egg. Place fillet in the egg mixture, coating lightly, then thoroughly dredge in the flour mixture. Place in a heated frying pan with 3/4 inch of oil in it. Cook until golden brown. Season the fillets with a dash of Old Bay and serve.